What do these terms mean?
Search engine marketing
Search engine marketing (SEM) is a type of Internet marketing that includes researching, submitting, and positioning a website within search engines to achieve maximum visibility and to increase traffic referrals from search engines.
Search engine marketing may use search engine optimization (SEO—explained below) or pay-per-click (PPC) listings. Search engine marketing involves keyword research, competitive analysis, paid listings, and other search engine services that work to increase search traffic to a website. Currently, the phrase "search engine marketing" is used to describe paid search activities. The phrase "search marketing" is often used to cover both search engine marketing and search engine optimization.
Search engine marketing can be classified into free (organic) and paid (inorganic) searches. Free search engine marketing uses on-page and off-page strategies to help search engines better recognize the relative importance of a website's pages. Paid searches involve a search engine company charging fees to include a website on their results pages, also known as sponsored listings.
Search engine optimization
Search engine optimization is the process of improving the visibility of a website or a webpage in a search engine's organic or inorganic search results. Optimization relies on understanding how people conduct searches and what type of results Google chooses to display to its users. Typically, the earlier and more frequently a site appears in the search results list, the more visitors the site will receive. As an Internet marketing strategy, search engine optimization considers how search engines work, what people search for, the search terms or keywords typed into search engines, and which search engines the target audience prefers. Optimizing a website may involve editing its content, HTML, and associated coding to increase its relevance to specific keywords and to remove barriers to search engines' indexing activities. Another search engine optimization tactic is to promote a site to increase the number of backlinks or inbound links.
Vive la différence!
Search engine marketing is a broader term than search engine optimization, but the two strategies are complementary. Search engine optimization might be considered a subset of search engine marketing and aims to provide better organic search results, whereas search engine marketing helps websites attract targeted search engine users through organic searches and paid links in search results. Both strategies are necessary to successfully conduct business on the Internet, so consider submitting your content to Scribendi's search engine optimization editing service prior to posting to ensure it is clear, optimized, and error-free.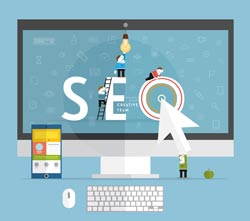 Scribendi's explanation of the difference between
search engine marketing and search engine optimization.
Related Articles

Scribendi.com's New SEO Services Help Businesses Worldwide
Scribendi.com has broadened its scope by adding search engine optimization (SEO) editing, web copy optimization, and social media editing to its set of service offerings.

Understanding Social Networking Websites
The idea behind social networking websites is really quite simple: the Internet has become a ubiquitous tool, and many people are now spending a large portion of their daily lives online, either for work or recreational purposes. Therefore, it's only natural for the millions of Internet users all over the world to want a convenient way of staying in touch with each other.
Back to Advice and Articles
Why Does a Local Business Need SEO?
Nowadays SEO is a powerful tool of making business more profitable. In last years SEO became one of the most popular ways of business effectivization. "SEO involves creating or modifying a Web site in a way that makes it 'easier for search engines to both crawl and index its content" (Beel, Gipp, Wilde, 2010; Google, 2008).

We can see that the higher and more frequently a site appears in the search results list, the more visitors it will have. A lot of people search information about goods and services in the Internet. Most results of such searches can cause a purchase. That is why using SEO instruments is very helpful for a local business. Search engines became smarter not only in relevant results, but also in localized ones. It gives an excellent opportunity to advertise a local business, increase the number of customers and improve sales. When a website have high search engine ranking, local clients can easily find the products they need close to home. Many customers search online reviews in the Internet before buying a product. SEO can help you find your target audience very quickly.
One of the strongest SEO strategies for local business provides an optimized Google Maps and Google Plus Local page. "Google maps have always been a core local SEO ranking factor with local businesses. The integration of Google maps and business previews from the corresponding Google+ Local have increasingly strong correlation to local SEO" (Fernando, 2014). Using social media platforms is effective way to promote your business. But every social profile should include your physical location in order to let your potential customers find you by it.
To be modern local business needs SEO. To be competitive you should improve your position every day because most companies do it. Your website should have high quality useful content, which your audience is interested in. You should create and promote good content that can be easily found by people and search engines. But now it is very important for a website to be not only user-friendly, but also mobile-friendly.
Today, business success in a great measure depends on Internet marketing. And SEO is one of the most effective tools of online marketing. Every local business should invest in SEO to get to the next level.
References
Divi Fernando (March 2014). Local SEO Strategy 2014: For Small To Medium Sized Businesses. Retrieved from http://blog.woorank.com/2014/03/local-seo-strategy-2014-small-medium-sized-businesses/
Joeran Beel, Bela Gipp, and Erik Wilde (January 2010). Academic Search Engine Optimization (ASEO): Optimizing Scholarly Literature for Google Scholar and Co. Journal of Scholarly Publishing, 41 (2), 176–190 University of Toronto Press. Retrieved from http://www.docear.org
If you don't know how an argumentative essay should look like, just look through our sample persuasive essay and try to complete your essay on the analogy. However, if you have difficulties with finding the appropriate information or you have a severe lack of time, you can apply for help to EssayShark. Our service was established for students who can't cope with all tasks but who are eager to have high scores.
Our sample persuasive essay is a high-quality writing. You will get a paper of the same quality if you'd like to. We know how it is important for you to save your privacy, so we have taken all possible measures to protect it. Our writers can cope with assignments even under pressure of strict deadlines. However, if you make an order preemptively, you will increase your chances to get exactly what you want. So, do not hesitate! Contact us right now!